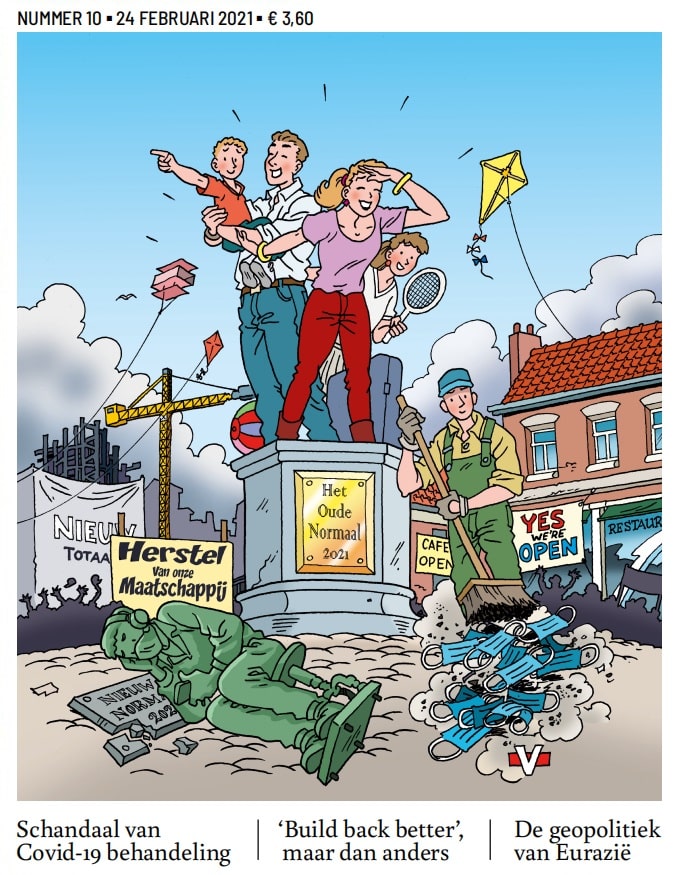 Gezond Verstand verschijnt iedere twee weken op papier en is 10 dagen later online te lezen voor abonnees.
Ben je nog geen abonnee? Meld je dan hier aan.
De voetnoten en bronnen per artikel.
Marion gaat naar de markt
Durden, Tyler. 2020. 'COVID-19 Is A Man-Made Virus: HIV-Discoverer Says "Could
Only Have Been Created In A Lab".' ZeroHedge 17 April 2020.
https://www.zerohedge.com/health/covid-19-man-made-virus-hiv-discoverer-says-could-only-have-been-created-lab?utm_campaign=&utm_content=ZeroHedge%3A+The+Durden+Dispatch&utm_medium=email&utm_source=zh_newsletter
Fan Wu et al. 2020. 'A new coronavirus associated with human respiratory disease in China'.
Nature, vol. 579 (3 February), 265-269. https://www.nature.com/articles/s41586-020-2008-3
FranceSoir, 2020. 'Le défi de la vérité: Luc Montagnier, prix Nobel de médicine.'(17
December) .
https://www.francesoir.fr/opinions-tribunes/le-defi-de-la-verite-luc-montagnier-prix-nobel-de-medecine
Gaytandzhieva, Dilyana. 2018. 'The Pentagon Bio-weapons'. Dilyana.Bg, 29 April.
http://dilyana.bg/the-pentagon-bio-weapons/
Guterl, Fred, 2020. 'Dr. Fauci Backed Controversial Wuhan Lab with Millions of U.S. Dollars for Risky Coronavirus Research.' Newsweek, 28 April.
https://www.newsweek.com/dr-fauci-backed-controversial-wuhan-lab-millions-us-dollars-risky-coronavirus-research-150074
Hilton, Steve. 2021. 'Steve Hilton investigates origins of COVID-19, links to US commissioned research.' The Next Revolution (Fox News) 25 January.
https://video.foxnews.com/v/6225847837001#sp=show-clips
Horowitz, Leonard G. 2020. Complaint for Injunctive Relief Against Unfair and Deceptive Trade by Civil Conspiracy in Violation of the Florikda Whistleblower Act, Civil Rights, and
Public Protection Laws. Civil suit against Pfizer, Inc., Moderna Inc., Hearst Corp. and Henry Schein, Inc. , US District Court for Middle Distric of Florida, 1 December. Pdf.
Lescaudron, Pierre. 2020. 'Compelling Evidence That SARS-CoV-2 Was Man-Made'.
Sott.net, 26 June.
https://www.sott.net/article/437083-Compelling-Evidence-That-SARS-CoV-2-Was-Man-Made
Mulraney, Frances and Owen, Glenn. 2020. 'Revealed: U.S. government gave $3.7 million grant to Wuhan lab at center of coronavirus leak scrutiny that was performing experiments on
bats from the caves where the disease is believed to have originated'. Mail on Sunday, 12 April.
https://www.dailymail.co.uk/news/article-8211291/amp/U-S-government-gave-3-7million-grant-Wuhan-lab-experimented-coronavirus-source-bats.html
Reacties (alleen voor leden)
Alleen abonnees kunnen reacties plaatsen.